It's the ship that's so famous it needs very little introduction, but have you heard all the facts about it? Take a look at these things 17 interesting facts about the Titanic and see for yourself just how much history lies beneath the surface of the ocean.
The famous Grand Staircase covered 7 of the Titanic's 10 decks.
It featured oak panelling, bronze cherubs and some of the finest paintings of the era.
The Titanic Museum in Branson, Missouri contains the most complete replica in the world.
The White Swan Hotel in Alnwick has some of the identical banisters from the Titanic's sister ship, the RMS Olympic.
The Titanic could carry a total of 2,435 passengers, plus a crew of 900.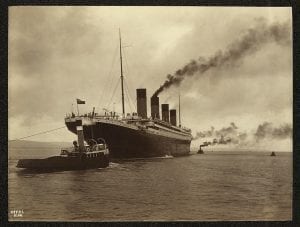 With only 20 lifeboats onboard, the Titanic could only offer safety to one-third of its passengers.
Shockingly this was actually more than it was required to by the laws of the time.
Just 705 people survived, and over 1,500 people died during this Maritime disaster.
It was built in Belfast by the shipbuilding company Harland and Wolff in only 26 months.
2 people were killed and 246 injured during construction.
When the anchor was moved into place twenty horses had to be used to move it.
Its launch on May 31, 1911, was witnessed by more than 100,000 onlookers and well wishers.
Getting it into the water for the first time required 22 tons of soap to make the slipway slippery enough to get it moving!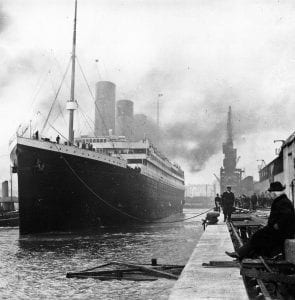 40% of the crew all came from Southampton, with only 23 women as part of the 885 strong crew.
The last first-class meal served contained a mouthwatering 11 courses!
Milton S. Hershey and Guglielmo Marconi were among the notable ticket holders who changed their plans in the days before and never boarded.
Do you know any interesting facts about The Titanic that we've not mentioned?  Let us know in the comments section below!
Which company built the Titanic?
The RMS Titanic was built in Belfast by the shipbuilding company Harland and Wolff
Who owned the Titanic?
The Ship Itself was actually owned by an American tycoon called John Pierpoint Morgan. The Titanic was however registered as a British ship as Morgan's company owned the controlling stake in the successful British shipping company, White Star Line.
Who was the captain of the titanic?
The Titanic's captain was Edward John Smith (27 January 1850 – 15 April 1912). It's been alleged that he was in bed, drunk, at the time of the collision with the iceberg.