Littered with Island paradises, the Indian Ocean is often at the top of many people's holiday bucket lists.  Think you know everything you can learn about the Indian Ocean? Discover 10 interesting facts about the Indian Ocean.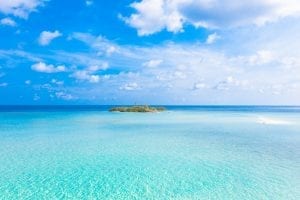 The average temperature of the Indian Ocean is a balmy 71 degrees Fahrenheit (22 degrees Celsius) – making it the warmest ocean in the world!
The Indian Ocean is popular for scuba diving. With crystal clear warm water, it's home to a wide range of colourful corals and many species of fish, shark, rays, turtles, dolphins and more to explore – it's little wonder!
The Indian Ocean is home to many 'paradise' island nations, including the Maldives, Mauritius, Seychelles, and Sri Lanka.
Did you know that the Indian Ocean connects to the Mediterranean Sea through the Suez Canal? Accessible via the Red Sea, the canal was built between 1859 and 1869 and saves a whopping 9,654km circumnavigation of Africa for all ships passing through it!
A lot of rivers drain in to the Indian Ocean – the largest of these include the Zambezi, the Ganges, the Gascoyne and the Murray River.
Do you know any fun, strange or interesting facts about the Indian Ocean you'd like to share?  Let us know in the comments section below!